A powerful infusion to revitalise skin that lacks elasticity and suppleness.
A concentrated supplement to replenish nutrients needed for essential for beautiful skin.

Selected from organically raised horses, it contains 40,000mg of placenta extracted at three times the concentration equivalent to 120,000mg. Horse placenta is rich in many amino acids and minerals, essential for beautiful skin. In addition, collagen, hyaluronic acid and NAKAMURAKIN® FERMENT FILTRATE *1 have been blended generously to support and nourish. Pomegranate juice brings a fresh palate to the mix, making it easy to continue as part of your diet.
Absorption is improved by taking a bottle once a day together with a meal. Nurturing beauty starts from the inside.

NAKAMURAKIN® FERMENT FILTRATE

*1

'

Naturally fermented for three full years in a cultural medium made with rice bran, rice-malt and sake lees blended with mineral rich 'Otoha water'.

Horse placenta

Horse placenta when compared to pig placenta, contains a higher level of nutrients such as vitamins, metals and essential amino acids.
Heightens your body's ability to regenerate through cell growth factors such as EFE, FGF.

Collagen

A protein that composes part of new skin tissue.
Broken down into amino acids in the body and supports the rejuvenation of supple skin.

Hyaluronic acid

A polysaccharide that becomes the base to hydrate the skin.

Pomegranate Juice

The extract of the aril of the pomegranate with the seed and skin removed. Contains nutrients such as Potassium and Vitamin D
*1 NAKAMURAKIN® FERMENT FILTRATE from Saccharomyces derived from rice and rice-malt.
HYDROLYZED PLACENTAL EXTRACT, ISOMALTO・OLIGOSACCHAIDE, POMEGRANATE EXTRAOT POWDER, COLLAGEN PEPTIDE(FISH), SACCHAROMYCES/RICE BRAN/GERM, FERMENT FILTRATE, FLAVOR, CLTRIC, ACID ANHYDRIDEHYALURONIO ACID, SIDIUM BENZOATE, SUCRALOSE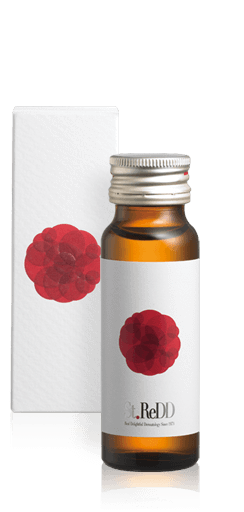 INNER BRILLIANT INFUSION

50ml

¥8,000

(excluding tax)
Purchase